Mugen Blog
2008 Entries
-Section below is outdated-
10-10 Late Night digging, found a rare snk flash version I made a while back, well its half-made. Gave me the idea to add Wally West's googly eyes from the late 90s to the current screenpack. Enjoy!
12-09 DC vs Marvel references, a link to old website + wallpaper backups. Includes a poll, checklist of cross company references and cosmic-level superpowers list.
Last entry MvC portraits updated in dcm characters download. Here is a preview:

-try out this Capcomized Marvel vs DC screenpack which was put together that I might implement in the future. 11-08 Restarted Joker,DCvsM compatible edited new joker not up yet. May finish him probably not.
-Blog cleanup! For Recommendations on Marvel/DC mods, Freedom Force is a great superhero mod with alot more DC/Marvel characters with the right software. >:b.
10-08: Update...Site updates are totally random, last update was reupload of this screenpack link..with minor updates of GL stance, Ferris Airport and Infinity Hour
*Beastboy AI fix links above.
09-13-08
Spent an hour updating some of GL backupfile's moves. Look above for most recent download.
08-27-08
Too many DC characters, and more! Also FYI accidentally uploaded outdated webpage for a month or 2.
*Progress report - Put up Isabel's Darkseid! Hopefully with permission. Checked characters with my new HDMI setup:)
Minor tweak on Gladiator, oh and for crashtests in the following character: Brimstone's NoAI is for boss mode so added BossAI. (character links above).
Most recent DCvsM roster is up.
Check out the videos in the video section and Enjoy!
07-25-08
Spiderbat released an interesting Batman. While testing it...It gave me the idea of creating a Dark Night Returns mugen character I will want to release in the near future. Well, its an early release in part to celebrate the new Batman movie.
- Its Spiderbats batman with 2 throws and a new intro. No bugs are fixed yet because of the big project idea I came up with on the horizon.
07-14-08: A list for new releases list for characters not yet listed on the Greenlantern Blog.
-Another DC Comic's Red Tornado, Shazam,a new capcomized Harley Quinn, Portraits.
-Newer versions of Marvel Comic's Dare Devil, Hobgoblin, Portraits.
07-06-08: Like this site? Want to see more releases? Well, it takes time, motivation, and dedication with your help! Help me pay off my school loans, Theyre after me!
Now to keep this page alive!
07-02-08: Added second major release of Beastboy in the links above.
06-25-08: Updated minor AIR tweaks on characters like Plastic Man, Gladiator, Brimstone. Also, started on a capcom version of GL. Basically trying to release Killer Croc, GL, and Beastboy. Starro bonus character cancelled (minor update on stage).
-organized webpage release list, deleted junk. Priority wips on top, finished, other and then hosted.
05/29/08 A link to the actual DC vs Marvel project being made by Alucard
05/26/08 Finished work on beta version of Gladiator (last check 06-08)
-Finished beta on Green Lantern then deleted it (file name was gl/next to gladiator backups go figure)
-Star labs stage extended (6-08 bugs fixed)
-final Etrigan upload for a while. )
-Restarted work on Gladiator. Added intro.
05/29/08 A nice site with every release of DC/Marvel Mugen characters. Also check out my own revision so far of the DCvsM screen pack.
-revisions include teen titans vs xmen jla vs avengers order
-some customized characters with DC/M templates tweaked specials and new portraits
*request portraits from characters in previous revisions
03/12/8 Re-Uploaded new DC vs Marvel screenpack released scruffydragon version
02-27-8 Re-Uploaded an update of the Daily Planet stage.
01-26-08 Latest updates of new releases of Green Lantern and Flash to put in the game (throw adds and stand fix of the latest versions) reuploaded again/glitch fix
01/08 A customized DC vs Marvel screenpack version with latest complete updates/fixes of your favorite DC and Marvel characters. Early beta of Phase 2.
12/07 The first Screen pack by request with the character backgrounds.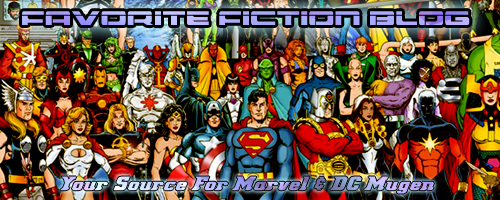 back